Aragen Bioscience offers a diverse range of preclinical oncology models and services with client-specific customized study design. These include human xenograft tumor models as well as the more complex sub-renal capsule, patient-derived xenograft (PDX), and syngeneic tumor models. We monitor PK/PD correlations using plasma following test article administration, tumor response, changes in tumor volume and weight, as well as studying genomic, proteomic and metabolomic biomarkers.
Xenograft models are extensively used in IND-enabling studies for evaluation of NCEs and NBEs as potential anticancer agents. Our scientists have developed and validated several xenograft models in Ncr Nu/Nu, NOD-SCID and SCID-Beige mice. We will customize and utilize any human cell line of your interest to conduct in vivo proof-of concept studies. Syngeneic models are used to test anticancer agents in an immunocompetent system, although it may not entirely reflect the human immune competency. With intact immune system, syngeneic models are pertinent for evaluating immunologically based targeted therapies alone or in combination.
Aragen Bioscience's Discovery Biology research services offer specialized, customized rodent models for preclinical testing of your investigative immunomodulatory anti-cancer therapeutics. Several animal models are available to screen potential CART-cell therapeutics as part of the IND-enabling process.
Cell Lines Validated for Tumorigenicity Studies- Xenograft Models
Human Cell lines @ Aragen Bioscience (USA/India)
S.No
Cell line
Origin of Tumor
Species
USA
IND
1
A431
Epidermoid Carcinoma
Human
Y
Y
2
Hep G2.2.15
Hepatocellular Carcinoma
Human
Y
3
A673
Rhabdomyosarcoma (Ewing tumor)
Human
Y
4
KASUMI-1
Acute Myeloid Leukaemia
Human
Y
Y
5
MV4-11
Beta Myelomonocytic Leukemia
Human
Y
6
NALM-6
B Cell Leukemia
Human
Y
7
SUDHL-10
B Cell Leukemia
Human
Y
8
MDA-MB-468
Breast cancer
Human
Y
9
MDA-MB-231
Breast
Human
Y
Y
10
MCF-7
Breast cancer
Human
Y
11
SK-Br-3
Breast cancer
Human
Y
12
Raji
Burkitt's Lymphoma
Human
Y
13
FaDu
Cervical Carcinoma
Human
Y
14
HT-29
Colon Adenocarcinoma
Human
Y
15
HCT-116
Colon Adenocarcinoma
Human
Y
16
Colo 205
Colon Adenocarcinoma
Human
Y
17
SW480
Colon Adenocarcinoma
Human
Y
18
KM-12
Colon
Human
Y
19
U87-MG
Glioblastoma
Human
Y
21
Hep 3B
Hepatocellular Carcinoma
Human
Y
22
PLC/PRF/5
Hepatoma
Human
Y
23
A549
NSCLC
Human
Y
24
NCI-H460
Large cell lung carcinoma
Human
Y
25
NCI-H226
Lung (NSCLC)
Human
Y
26
H1299
Lung (NSCLC)
Human
Y
27
NCI-H358
Lung (NSCLC)
Human
Y
28
NCI-H1944
Lung (NSCLC)
Human
Y
29
NCI-H1573
Lung Adenocarcinoma
Human
Y
30
Calu-6
Lung anaplastic carcinoma
Human
Y
31
NCI-H292
Mucoepidermoid pulmonary carcinoma
Human
Y
32
A427
Lung carcinoma
Human
Y
33
A375
Melanoma
Human
Y
34
KG-1
Multiple Myeloma
Human
Y
35
NCI-H929
Multiple Myeloma
Human
Y
36
U266
Multiple Myeloma
Human
Y
37
MM1.S
Multiple Myeloma
Human
Y
38
RPMI8226
Multiple Myeloma
Human
Y
39
WSU-DLCL-2*
non-Hodgkin's Lymphoma
Human
Y
40
IGROV-1*
Ovarian cancer
Human
Y
Y
41
SK-OV-3
Ovarian
Human
Y
42
A2780
Ovarian
Human
43
OVCAR-3
Ovarian adenocarcinoma
Human
Y
Y
44
OV90
Ovarian cancer
Human
Y
45
PANC-01
Pancreatic Cancer
Human
Y
46
AsPC-1
Pancreatic Cancer
Human
Y
47
BxPC3
Pancreatic Cancer
Human
Y
48
PANC.10.05
Pancreatic Cancer
Human
Y
49
MIA-PACA
Pancreatic Cancer
Human
Y
50
22rv.1
Prostate Cancer
Human
Y
51
LNCaP
Prostate Cancer
Human
Y
52
DU-145
Prostate Cancer
Human
Y
53
PC-3
Prostate Cancer
Human
Y
Y
54
22rv.1
Prostate Cancer
Human
Y
55
LNCaP
Prostate Cancer
Human
Y
56
786-O
Renal Carcinoma
Human
Y
57
A498
Renal Carcinoma
Human
Y
Y
58
Caki-1
Renal Cell Carcinoma
Human
Y
Cell Lines Validated for Tumorigenicity Studies- Xenograft Models
Animal Cell lines @ Aragen Bioscience (USA/India)
S.No
Murine Cell Line
Origin of Tumor
Species
USA
IND
1
4T1
Breast
mouse
Y
2
MC-38
Colon
mouse
Y
3
CT-26
Colon
mouse
Y
4
B16-F10
Melanoma
mouse
Y
5
B16-F1
Melanoma
mouse
Y
6
Hepa1-6
Liver
mouse
Y
7
LL/2
Lung
mouse
Y
8
A20
lymphoma
mouse
Y
9
EL4
Thymoma
Human
Y
10
E.G7
Ova-expressed Thymoma
mouse
Y
11
C6VL
 T cell-Lymphoma
mouse
Y
12
H1210
Leukemia
mouse
Y
13
Renca
Kidney
mouse
Y
14
Ba/F3
a murine interleukin-3 dependent pro-B cell line
mouse
Y
15
D17
Osteosarcoma
Canine
Y
Tagged cell lines validated for Tumorigenicity in Syngeneic models
Special Cell lines @ Aragen Bioscience (USA/India)
S.No
Murine Cell Line
Origin of Tumor
Species
USA
IND
1
4T1-FLuc
Breast
Human
Y
2
MC-38-FLuc
Colon
Human
Y
3
CT-26-FLuc
Colon
Human
Y
Tagged cell lines validated for Tumorigenicity in Xenograft models
Special Cell lines @ Aragen Bioscience (USA/India)
S.No
Murine Cell Line
Origin of Tumor
Species
USA
IND
1
A549-FLuc-GFP
Lung (NSCLC)
Human
Y
2
BxPC3-FLuc-GFP
Pancreatic cancer
Human
Y
3
Mia Paca-2-Rluc
Pancreatic cancer
Human
Y
4
Caki-1-FLuc
Renal Cell Carcinoma(RCC)
Human
Y
5
786-O-FLuc
Renal Cell Carcinoma(RCC)
Human
Y
6
MeWo-Rluc
Melanoma
Human
Y
7
MDA-MB-231-FLuc
Breast
Human
Y
8
MCF-7 FLuc
Breast
Human
Y
9
SKOV-3-FLuc
Ovarian cancer
Human
Y
10
MKN-1-FLuc
Gastric cancer
Human
Y
11
A673-FLuc
Muscle Ewing's sarcoma
Human
Y
12
Raji-FLuc-GFP
Burkitt's lymphoma
Human
Y
Human Tumor Xenograft (Click on the links to read case studies)
| | |
| --- | --- |
| Tissue Type | Human Cell Line |
| Leukemia lymphoma | Daudi, MV4.11 |
| Burkitt's lymphoma | Raji, Raji-Luc-GFP |
| Acute myeloid leukemia | Kasumi-1 |
| B cell leukemia | NALM6, SUDHL-10 |
| Multiple myeloma | KG-1, NCI-H929, U266, MM.1s, RPMI-8226 |
| Colon adenocarcinoma | HT-29, HCT-116, HCT-116 Luc-GFP, Colo 205, SW480 |
| Lung (NSCLC) | A549, NCI-H226, NCI-H1299, NCI-H358, NCI-H1944, A549-Luc-GFP |
| Lung anaplastic carcinoma | Calu-6 |
| Lung adenocarcinoma | NCI-H1573, NCI-H292, NC-H460 |
| Renal cell carcinoma | Caki-1, 786-O |
| Hepatocellular carcinoma | Hep G2, Hep 3B |
| Cervical carcinoma | FaDu |
| Pancreatic cancer | BxPC-3, BxPC-3-Luc-GFP, Mia Paca-2-Luc |
| Ovarian cancer | SKOV-3, SKOV-3-Luc, OVCAR-3 |
| Prostate cancer | LNCaP, LNCaP-Luc, 22rv.1 |
| Breast cancer | MDA-MB-468, MDA-MB-231, MDA-MB-231-Luc, MCF-7, MCF-7 Luc, BT-474 |
| Glioblastoma | LN-229 |
| Melanoma | A459 |
Validated Syngeneic Tumor Models (Click on the links to read case studies)
Tumor Origin
Murine Cell Line

Breast

4T1, 4T1-Luc

, EMT-6

Colon

MC-38 , CT-26

Melanoma

B16-F10, B6-F1

Liver

Hepa1-6

Lung

LL/2

Lymphoma

A20

Thymoma

EL4, E. G7

Leukemia

H1210

Kidney

Renca
Immuno- Oncology (IO) and CART Cell Therapeutics Evaluation Capabilities
Due to extensive immuno-oncology (IO) research, more effective and targeted treatment strategies for cancer have evolved in recent years. The approval and use of chimeric antigen receptor (CAR) T-Cell therapeutics in difficult-to-treat cancers has brought hope to millions of patients and oncologists globally. In particular, the success of CART-cell therapy in hematologic malignancies renewed efforts to use this technology against solid tumors as well. However, this strategy has had several challenges, including targeted delivery, penetration of therapeutics to tumor cells, immunogenicity, short- and long-term toxicity and safety, and efficacy of CART-cells in humans. To address the challenges above, several animal models have been utilized to screen potential CART-cell therapeutics as part of the IND-enabling process.
In addition, bispecific antibodies have emerged as a new class of therapeutic agents designed to simultaneously bind to patient's T cells and to tumor cells, inducing T-cell-mediated cytotoxicity of tumor cells. Humanized models with human peripheral mononuclear blood cells (PBMCs) in combination with a variety of xenograft models, are the most frequently used in-vivo platform for short-term screening of novel compounds. Full hematopoietic stem cell (CD34+) reconstituted models combined with genetically modified immunodeficient strains are utilized for long term screening of T-cell modulators, natural killer (NK) cell modulators, and other agents that induce antibody dependent cell cytotoxicity (ADCC), as well as various categories of immune checkpoint inhibitors and agonists.
Aragen Bioscience is a leading R&D and manufacturing solutions provider for the life sciences industries worldwide offering end-to-end integrated and standalone solutions to advance small and large molecule programs from concept to commercialization. In vivo pharmacology services at Aragen Bioscience offer specialized, customized, comprehensive portfolio of in vivo services for testing of your investigative immune-oncology cell therapeutics.
Why Aragen Bioscience?
A team of experienced scientists and skilled in vivo research associates can support pre-clinical research from study design through execution as follows:
Ensuring the successful intravenous adoptive transfer of CART-cells or human PBMCs into a mouse.
Experience in performing in vivo CART therapeutic evaluations of both liquid and solid tumors.


Figure 1. Representative study design for evaluating CART therapeutics

Experience in using cryopreserved CART cells or human PBMCs with careful thawing and resuspension prior to the adoptive transfer (Harbani K. Malik-Chaudhry 2021).
Experience in performing a wide range of cell line derived xenograft in humanized mouse models with successful identification of efficacy to support preparing IND program.
Utilization of our bioluminescent imaging system to monitor tumor progressions in living animals.


Figure 2. Ventral view images of mice after inoculation (6, 11 and 18 days) of Raji-Fluc cells both in non-humanized and humanized models.

Top panel: raji-Luc disseminated, middle panel: raji-Luc in humanized model, and the bottom panel: raji-Luc treated with anticancer drug in the humanized model. The images were taken on days 6,8 and 11 post tumor cells implantation.

Ex vivo supports including detection of tumor-specific or associated antigens on the surface of cancer cells by FACS, pre-screening of the PBMCs both in vitro or in vivo to reduce donor variability and to ensure consistency replicate studies by using the same donors, monitoring of CART cells in the host, and screening of human PBMCs engraftment.


Figure 3. Engraftment of human PBMCs


Bar graphs of CD45+ engraftment after hPBMC adoptive transfer. The leukocyte marker CD45+ and T-cell markers CD4+ and CD8+ measured from peripheral blood on 14, 18 and 21 days.
Our research facilities are in Morgan Hill, CA and we can accommodate same-day or second-day domestic shipping of your temperature-sensitive therapeutics and biological samples.
Validated IO Models
Effect of Cabozantinib (p.o.) shown in Syngeneic Model: Female Balb/C Mice were injected with RENCA cells (mouse melanoma cell line) in the flank region. Treatment with Cabozantinib was injected on Day (post implant). A significant reduction in tumor volume and increased tumor growth inhibition was observed as compared with control grp.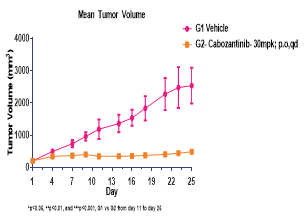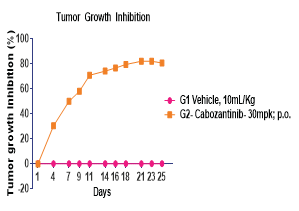 Effect of Pembrolizumab (i.p.) and test article (XXX) shown in Syngeneic Model: C57BL/6 Mice were injected with B16F10 cells (mouse melanoma cell line) in the flank region. Treatment with Pembrolizumab was injected on Day (post implant). XXX moderately reduced the tumor volume while Pemrolozumab-alone orin combination with XXX did not reduce tumor burden as compared to vehicle-treated mice.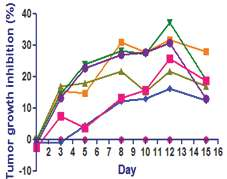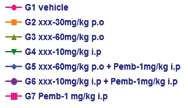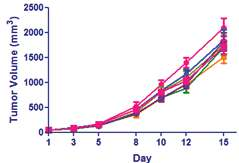 Additional Models
Lung metastasis model
Orthotopic models of breast, kidney
Subrenal capsule assay
Vaccine model
Other Oncology Support
In Vivo Bioluminescent Imaging
70+ cancer cell lines stored in-house to validate new models
Pharmacokinetics and bioavailability of various test materials in tumour bearing mice
Target engagement of compound in tumour tissue and PK/PD correlation
MTD studies in immunocompromised mice
Aragen Bioscience is a leading integrated discovery, development and manufacturing solutions provider for the global life sciences industry. Our Discovery Biology Services include In vitro and In vivo screening of new immunotherapies, including engineered chimeric antigen receptor (CAR)T-Cells (client provided) using translational animal models to support efficacy proof of concept studies in xenograft and syngeneic tumor models.
Typical readouts are, but not limited to:
Immunophenotyping with multi-color FACS
Cytokine panels
ELISpot assays
Multi gene analysis
Histology/ Immunohistochemistry
Protein/ peptide analytics
These services cater to a range of therapeutic areas including immuno-oncology research.
In recent years, immuno-oncology research has made rapid progress, thanks to new therapeutic options such as CART-Cell. While the CART therapy is increasingly being used for treatment of human hematologic malignancies, there are several challenges including targeted delivery, immunogenicity and efficacy in solid tumors.
To address these challenges and help you expedite your IO research projects to market, we have developed various mouse models to screen potential CART-cell therapeutics to support IND-enabling process.
The Aragen Bioscience Advantage :
Experienced and skilled team of in vivo research scientists to support pre-clinical research from study design through execution
Experience in intravenous transfer of CART-cells (or human PBMCs) into a mouse and in vivo / ex vivo CART therapeutic evaluations for liquid and solid tumors
Experience in cell line derived xenograft- in humanized mouse models and non-invasive monitoring of tumor progressions in animals
Detection of tumor-specific antigens by FACS, in vitro or in vivo pre-screening of the PBMCs and screening of human PBMCs
Same/next day shipment of biological samples from our research facility at Morgan Hill, CA