Stable Cell Line Development at Aragen Bioscience – Accelerating speed to IND (Investigational New Drug)
Efficient cell line development is critical in bringing biologics to market and requires a team of experienced scientists, a portfolio of well validated cell line platforms, and ultramodern facilities. Aragen Bioscience delivers this combination and has completed more than 200 cell line development projects, with over 100 of those cell lines in the clinic following an investigational new drug (IND) application. Aragen Bioscience has successfully developed over four cell lines that are used in marketed products.
Support for a broad range of host cell lines and expression vectors
Aragen Bioscience's researchers are specialists in handling a wide range of host cell lines (CHO DG44, CHO GS, SP2/0, and NS0) and expression vectors (DHFR, Glutamine Synthetase (GS), and antibiotics).
CLD Process Flow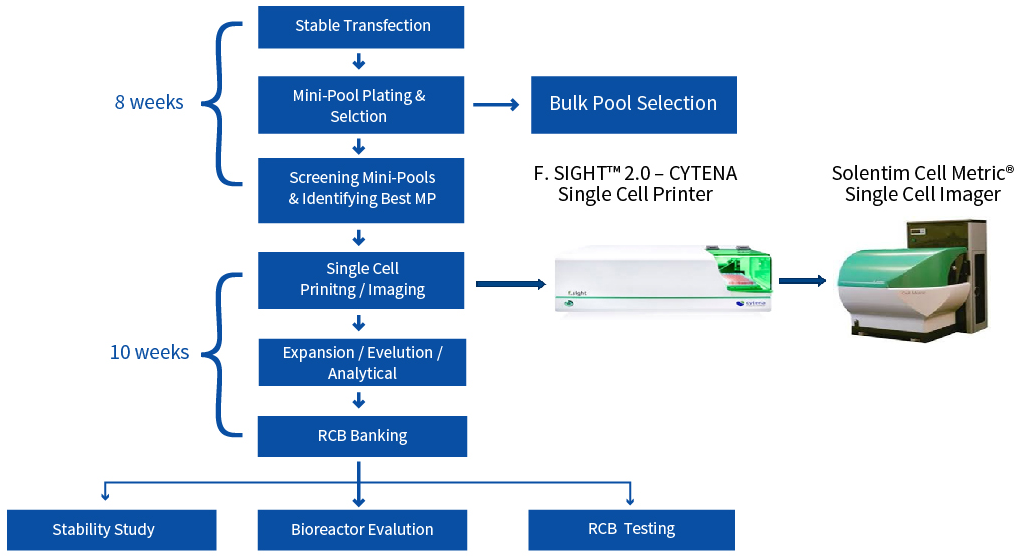 RapTr2022 with Higher Titre and Shorter Timeline – A royalty-free CHO-DG44 CLD
Key Highlights
Our Biologics team has produced a range of biologics, including human, mice, canine, and feline IgGs, fusion proteins, enzymes, hormones, cytokines, mini bodies, and bispecific antibodies with this platform. RapTr2022 is best suited to produce difficult-to-express proteins.
A strong record of accomplishment in successfully generating cell lines to deliver more than 200 CLD projects. The majority of these CLD projects resulted in IND applications leading to clinical development.
Our resources and capabilities fit your unique requirements at each step of the CLD process. Our RapTr2022 platform should expedite your biotherapeutic product journey to clinic because it minimizes risk and maximizes efficiency.
CHO DG44
Our internal CHO DG44 platform is essentially free-to-own (royalty-free) and is a high- productivity CHO cell line choice that can deliver >4g/L in 5 months for a range of biologics. The DG44 platform has an extensive regulatory record of accomplishment and uses commercially available media and feeds.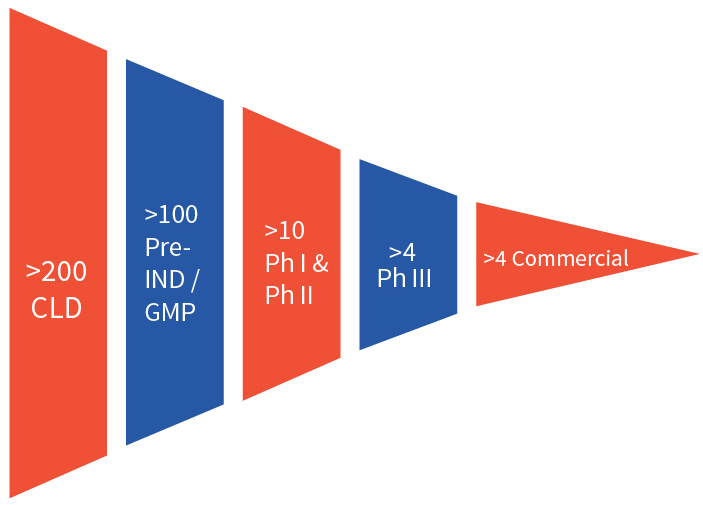 Highlights
Royalty-free CHO DG44 platform
Production of 4-5 g/L protein in ~18 wks
IND- / BLA-ready packages
50% antibodies
50% non-antibody proteins
Expertise in generating Biosimilar Drugs
CHO GS Platform with Higher titre and shorter Timeline for Antibody Production
The GS-CHO expression system, a protein-free-adapted CHO-K1-derived cell line employs the glutamine synthetase (GS) gene expression system and is extensively used for biotherapeutic production.
Key Aspects of our CLD platforms :
A royalty-free CHO GS Cell line Development (CLD) platform
CHO GS- stable cell line expression platform to produce proteins and antibodies
Stable bulk pool (BP) evaluation reached ~700mg/L
Mini pool (MP) generated, and MP reached up to 4.2g/L
SCC (Single Cell Clones) were generated from the top 2 mini-pools and fed-batch shake flask reached up to 6 g/L
Single cell clones show stability over 60 days in respect to cell growth, maintaining high viability and specific productivity
Using Aragen Bioscience's optimized process from transfection to Single cell clone evaluation completed in 18wks
Sigma's CHOZN
Sigma's CHOZN platform is based on deletion of the CHO glutamine synthetase (GS) gene with Talon gene editing technology. The resulting GS-/- CHO host and expression vector with GS choice is a great combination for companies with an interest in an established GS selection system. Regulators are familiar with its efficacy and operation, and its expression vector produces titers equivalent to the DG44 platform.
Mitigating risk with parallel cell line development
Aragen Bioscience's cell line development solutions provide cost-effective approaches to test different platforms simultaneously without delaying IND filing timeline. We improved breaks in the CLD process so that parallel work can be stopped as soon as data is available. This helps in the selection of the most effective platform.
Cell Line Services for Biosimilar Development
Due to patent expiry of branded therapeutics a significant opportunity has emerged for the development of biosimilar drugs
We have partnered with clients to generate biosimilars with demonstrable structural equivalence to that of innovator drugs (like post-translational modifications-glycosylation)
Optimized the manufacturing scale-up with tight control and tailored analytics to ensure that the biosimilar fits innovator drug specifications
Working with small to large clients developing biosimilar products for inflammatory disease, genetic disorders, and cancer
Generated clonal cell lines
Evaluated single cell clones in fed-batch shake flask
Scalable in bioreactor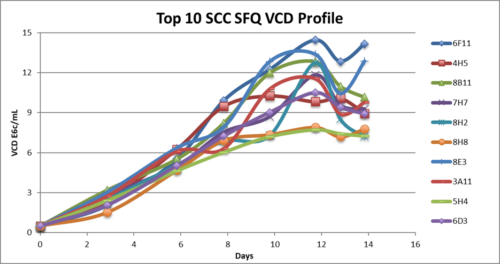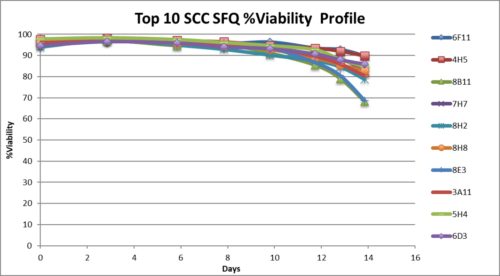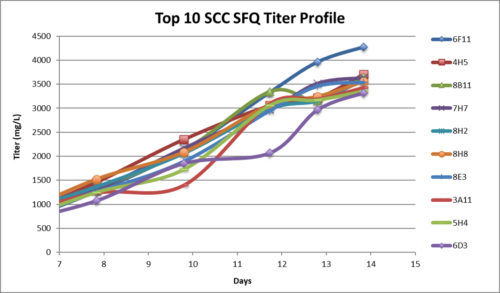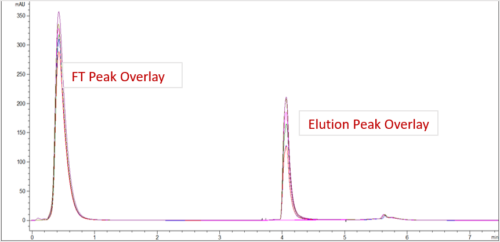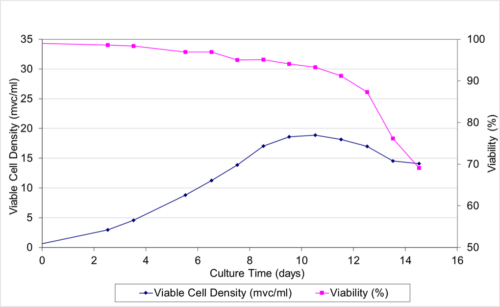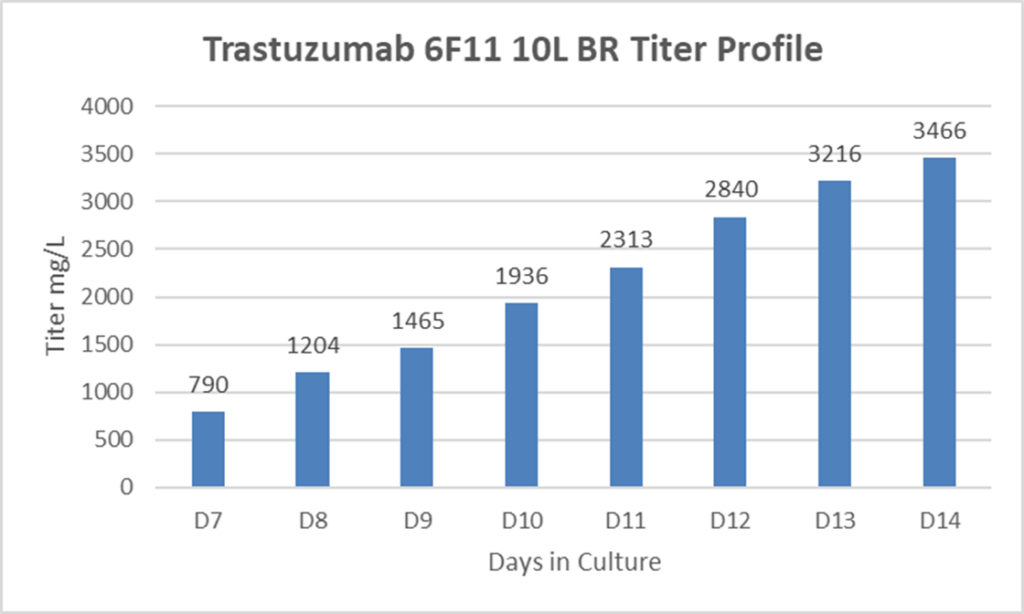 IgG Epidermal Growth Factor Receptor Blocker (HER-2 Type) or Rec-MC Antibody
HPCL-SEC Purity
Sample ID
Main Peak
HMWS
LMWS
1
98.80
1.20
0.00
2
97.50
2.11
0.39
3
97.81
1.81
0.38
4
97.73
1.91
0.37
5
97.97
1.56
0.47
6
98.85
1.15
0.00
7
96.88
2.66
0.47
8
97.66
1.96
0.39
9
98.84
0.73
0.43
10
97.73
1.84
0.44
IgGA Control
IgGA Start
99.10%
0.90%
0.00%
IgGA End
99.10%
0.90%
0.00%
Stable bulk pool (BP) evaluation
Titers achieved~700mg/L
Single cell clone (SCC) from BP reached up to 2g/L with clones showing stability up to 60 days
Mini pool (MP) generated, and MP reached up to 4.2g/L
SCC were generated from the top 2 mini-pools and fed-batch shake flask reached up to 6 g/L
Single cell clones show stability over 60 days in respect to cell growth, maintaining high viability and specific productivity
Using Aragen's optimized process from transfection to Single cell clone evaluation completed in 18wks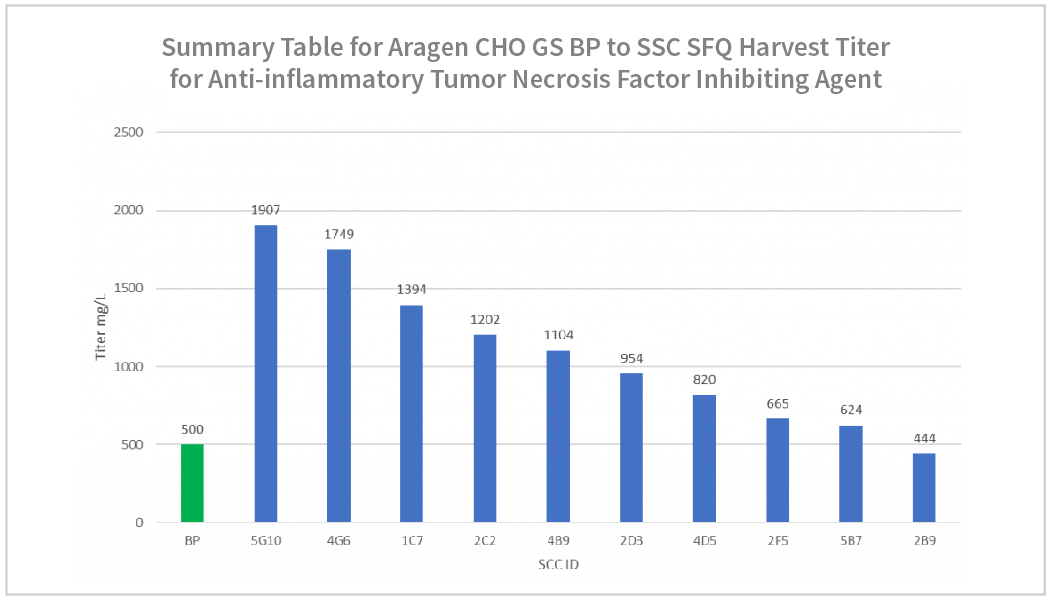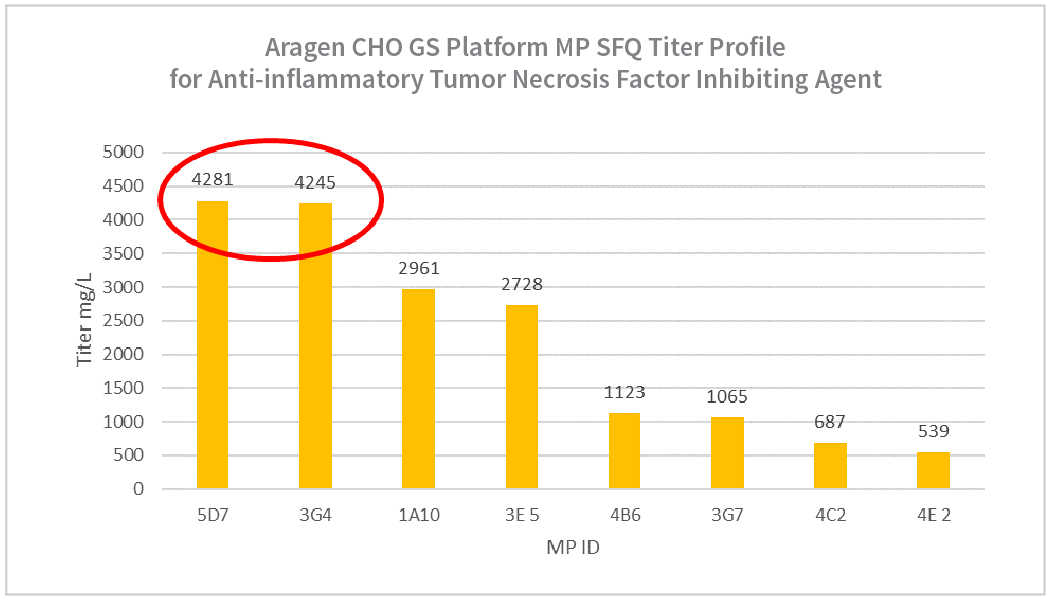 Summary Table for Aragen Bioscience CHO GS Anti-inflammatory Tumor Necrosis Factor Inhibiting Agent MP SFQ
MP ID
% Viability at Harvest
PVCD E6 c/mL
Harvest Titer (mg/L)
5D7
91
22
4281
3G4
88
16
4245
1A10
83
14
2961
3E5
93
17
2728
4B6
84
13
1123
3G7
90
12
1065
4C2
69
9
687
4E2
86
12
539
Single cell clone generation and evaluation
The Top two MPs were used to generate SCC
SCC in fed-batch shake flask evaluation reached up to 6g/L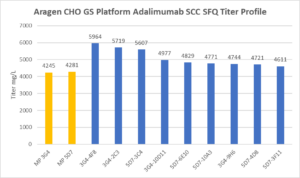 Summary Table for Aragen Bioscience CHO GS Anti-inflammatory Tumor Necrosis Factor Inhibiting Agent SSC SFQ
SCC ID
% Viability at Harvest
PVCD E6 c/mL
Harvest Titer (mg/L)
3G4-4F8
86
18
5964
3G4-2C3
79
14
5719
5D7-3C4
86
22
5607
3G4-10D11
76
15
4977
5D7-6E10
95
28
4829
5D7-10A3
91
27
4771
3G4-9H6
77
14
4744
5D7-4D8
80
17
4721
5D7-3F11
89
25
4611
Stability study of Single Cell Clones (SCC) from Bulk Pool (BP)
Completed stability study on top 3 SCC from BP
Completed 60 days stability both with and without selection
High viability, good growth rate, shorter dT
All three SCC showed stable specific productivity up to 60 days