Protein Expression Services: Transient Mammalian Cell Expression
Recombinant Protein Expression- We offer multiple expression systems to meet every client's need.
Whether you are focused on lead discovery, production of targets for high throughput screenings, or characterization of interesting gene products or antibodies, our proprietary One-stop transient expression system will help optimize the expression and purification of your products. All purified biologic products are characterized in our state-of-the art analytical labs. 
Protein expression and purification services include virtual protein sequences, the delivery of mg to g level proteins for compound screening assays, and mechanistic and structural studies. We customize your studies using a vast selection of vectors, promoters, affinity tags and protein labeling technologies, and fast track methods to generate functionally evaluated proteins within weeks.
Mammalian Expression Systems
Transient Expression- CHO-S, HEK-293, Expi systems

Stable Cell Pool

Stable Cell Line 

Hybridoma
Scales: small scale (24 deep well plates) to >300L in WAVE Bioreactors
Bench-scale stirred tank reactors (1, 5 and 10 L working volume)
Protein Purification and Characterization
We serve clients from pharmaceutical, agrochemical and academia. Our scientists have achieved >95% purity pure mg-g scale of proteins production, and a throughput of 20 proteins per week on the multiple ÄKTA purification platforms in a temperature-controlled environment. We offer flexible and customized protein purification services to achieve highest purity and biological activity with low endotoxin levels at the shortest time. The testimony is the fact that our scientists have expressed over 200 reagent proteins, and consistently delivered superior quality proteins as reagents.
Workflow for Purification
Harvest
<5L Centrifuged and 0.2um filtered
>5L In-line depth filtration (Meissner & GE)
Buffer exchange and concentration of Harvest (UFDF)
Purification
Column chromatography (Affinity, IMAC, Ion Exchange, HIC, SEC, Multi-Model
Some purifications require more than one step
QC Analytics
SDS-PAGE, analytical SEC, Endotoxin, A280
Formulation
TFF, concentration, buffer exchange
Addition of cryo-protectants and surfactants that help stabilize the protein
Final Analytics
SDS-PAGE, analytical SEC, Endotoxin, A280
Certificate of Analysis (C of A)
SDS-PAGE, analytical SEC, Endotoxin, A280
Cytiva: AKTA Plus :
Performs routine protein purification with ease.

Protein Purification using Column chromatography.
Cell culture harvest using Depth filters

Protein Purification – 1mL to 200 L of harvest using Affinity Columns (A/G), IEX (Capto Q, S), HIC, Ni-NTA, etc.

Polishing of protein using Superdex-200 or Resin of Client's choice

Advanced TFF systems capable of concentrating and dialyzing up 1,250mL/min

Process design with scouting studies to identify resin, buffers, and elution conditions

High purity: low endotoxin, low host cell proteins and DNA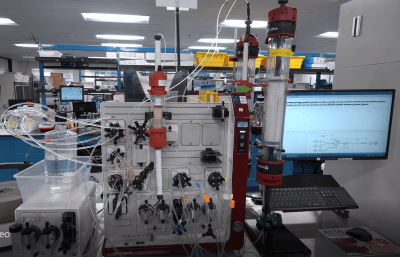 KrosFlo KR2i:
Advanced TFF systems capable of concentrating and dialyzing up 1,250mL/min.